There have been many black characters in shows and films this year. I have seen so many new ethnic styles and depictions recently and  I am excited to see where we go from here on out. However, I recently read an article that spoke on the horrible wigs donned by important black characters and how through this horrible depiction of hair we see the lack of care given to the depth of these said characters. While I agree with some parts of the article a question came to me: What shows give me the opposite feeling, a feeling of care and detail to, not only the hair but the characters as a whole. I came up with this list shows filled with hair inspiration and detail!
Black

 Lightning
Black lighting, on the CW, is already a historical show by being the first to depict a black superhero family on tv. Watching the show, you see beautiful hair styles from a wide range range of characters but Anissa in particular is my favorite at showing versatility with wigs and braid styles, all while kicking butt.
You also see characters with a bob, TWA (teenie weenie afro), braids, dreads, and more. I love that not only is the show giving us an array of black characters with depth and variety, but also giving us hair style ideas to try for ourselves.
Insecure
If you looking for ways to style a shorter length afro, look no further than Issa rae's insecure on HBO. Issa has found a way to show the beauty of natural hair through out the show. She also uses her hair to show emotions when she was disheveled emotionally so was her hair. This helps to bring home the idea that our hair is an extension of who we are and can be a direct representation of how we feel.  Almost every episode we are shown a new style from Issa, while watching her live her life with her friends. (Who also rock signature styles of their own)
Black-ish
ABC's Blackish follows the life of a black family and covers a wide range of topics in the black community such as spankings and police brutality. I could go on and on about the importance of having a show like black ish, that shows a financially stable black family with emotionally availability and connected-ness as a family unit, but that's not what this post is about. The show has an amazing array of hairstyles worn by Tracee ellis ross, a woman that has rocked her natural tresses since girlfriends, and the young daughters Zoey and Diane played by Yara Shahidi and Marsai Martin.
They used hair to tackle the topic of identity as a biracial person and the importance of hair as a sense of identification. Tracee Ellis Ross's character, Rainbow, was being called out as a mother that wasn't accepting her roots because she was straightening her daughter's hair. They also use this moment to mention tender headedness a topic a wrote about earlier and the phenomenon where black people claim native American history.
Grown-ish

The spin off show from Black ish follows Yara Shahidi"s Zoey on her journey at college. This shows takes on the same format of tackling sensitive topics for the younger community and does so, in a relatable and conscious way. Another thing the show adopts from the original is hair creativity. Yara Shahidi and cast all show their style in both clothes and hair styles, giving us inspiration in every episode.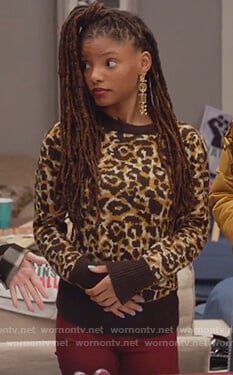 What's cool is that you can find tutorials of looks from the show on YouTube. There are even some tutorials by the tv show's hair stylist, Tinisha Meeks, on Freeform's YouTube channel.
---
Let me know down below do you get hair inspiration from tv show characters? Did I miss any shows with good hair inspiration?